In control. Healthier. Happier.
Bring all your health information and GP records together in one place. Book GP appointments, order NHS prescriptions and get insights on how to be as happy and healthy as possible with the Evergreen Life app.
4.6 App Store & Google Play rating
Save yourself time with NHS-assured patient online services. Book GP appointments easily, get repeat prescriptions delivered and download your GP medical record.
Available at GP practices in England now.
Unlock the health secrets in your DNA
Dive into your DNA and unlock eye-opening personalised Diet, Fitness, Metabolism, Skincare and now Happiness insights backed by the latest science. Discovering your genetic tendencies will give you the information you need to significantly boost your health and wellbeing.
It's not only you who can learn about your unique genetic make up. Your loved ones can find out about theirs too when you gift them an Evergreen Life DNA Test.
Make changes. See the results. You're in control.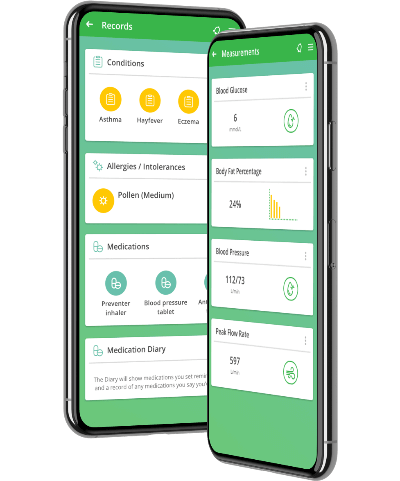 Your most accurate health record
Your GP, hospital and other records aren't joined up, so it can get pretty tricky having to repeat the same information over and over. With Evergreen Life, you can build an accurate, up-to-date health record in the palm of your hand.
Are you as well as you could be?
Taking control of your health starts with understanding it. Based on your answers to clinically-reviewed questions, your Wellness Score out of 100 helps you see if you're doing all you can to be healthy and provides insights on how to optimise your wellbeing.
"Getting it right!"

Directs your lifestyle issues in a meaningful way and suggests the best physical activities suited to your profile.

"What a wonderful way to order my prescriptions."

It's pouring down with rain and I would have had to go out and get soaking wet to travel to my doctor.
"Gives me peace of mind"

This app is easy to follow and use. All my meds have been ready for me on time giving me peace of mind.

"Game changer"

Really handy for checking results, making appointments without waiting forever on the phone and ordering repeat prescriptions.
"Love this app"

Very easy to use especially when booking appointments, so many exciting features. Gives health information that is very vital to wellbeing.

"Reliable and efficient"

Reliable, efficient service backed up really well by customer service who resolve any issues you have!
Don't just take our word for it...
See what our happy users have to say about the FREE Evergreen Life app.
COMBINED APP STORE AND GOOGLE PLAY RATING
Discover our health and wellbeing insights
How does your lifestyle compare to others? We're asking our app community about their wellness habits via questionnaires in the Evergreen Life app to help us all understand how to live a healthier, happier life!
Explore the insights below and join the app community to contribute to and learn from this exciting, new research.
Proud to be B Corp certified
As a certified B Corp, we're part of a growing community of organisations that are using business as a force for good! Being a B Corp means we've passed a rigorous certification showing our business makes a positive impact on our community.
People matter most to us. From supporting the wellbeing of our employees and the wider world (we're a health app after all!), and taking steps to reduce our environmental impact, we like to take our social responsibility pretty seriously.
Evergreen Life allows people to take control of their health, wellbeing and medical records, which is more important today than it has ever been.
Stephen Critchlow, Founder and CEO
"Who knows my wellness better than me?"
Ingrid shares how her personal health record has transformed the way she manages her health – all from the palm of her hand.